Hanakanzashi (Flowered Hair Ornaments): February
February 17, 2007
This month is the Plum
hanakanzashi
. Maiko with the
wareshinobu
hairstyle wear a
hanakanzashi
with many small plum blossoms. (The
wareshinobu
is worn by younger, lower ranking maiko).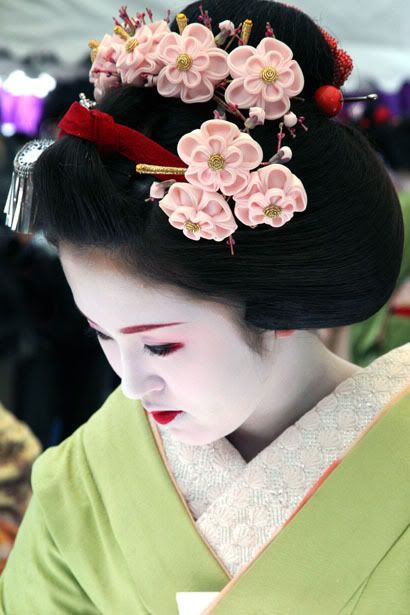 The ofuku hairstyle's hanakanzashi (the hairstlye that [Ichimame is] currently wearing) consists of large plum blossoms. As for me, this plum hanakanzashi is one of my favorites. My hair has been styled in the ofuku style since last autumn, so I am looking forward to wearing many different kinds of hanakanzashi from now on.


The Day Before the Plum Blossom Festival
February 24, 2007
Tomorrow is the Plum Blossom Festival at Tenjin-san (Kitano Tenmangu Shrine). We will have an open-air tea ceremony. It`s a bit chilly, I think, but plum blossoms and a sweet fragrance hang in the air, so please do me the pleasure of coming to see!


The Plum Blossom Festival


February 27, 2007


There are always a lot of people at Tenjin-san (Kitano Tenmangu shrine) in the day, but this Plum Blossom Festival really drew quite a crowd.
Here is a picture from the Plum Blossom Festival.


The people who do us the pleasure of coming every year said "It's good that this year is warm, isin't it?" I hope next year is warm, too.

Tenjin-san's (Kitano Tenmango Shrine's) plum blossoms are this much in bloom.