Paper umbrellas popped on the Japanese scene during the Edo period. Featured in many of the woodblock prints of Hiroshige Ando`s '100 scence of everyday life' these wax coated paper umbrella spared the people from the heat of the harsh, summer sun and sheltered them from rain. Utamaro Kitagawa also depicted these traditional umbrellas in his Ukiyoe (woodblock) masterpieces of beautiful women. These days, Japanese umbrellas play an important role in tea ceremony, dance, and Kabuki as an essential representation of Japanese traditional culture.
The thick wooden clogs of a maiko, or apprentice geisha. In the crowded Hanamikoji street, we heard the sound of many maiko girls' rushing to make their appointments. 'Kobo-kobo-kobo'is the onomonopia used to describe the sound of these shoes on the stone streets. 'Okobo', as they are called, have extremely thick soles, measuring 11cm.
Two
nisemono
maiko, or imposters (toursits playing dress-up), send pictures of their transformation to friends via keatai, or mobile phone.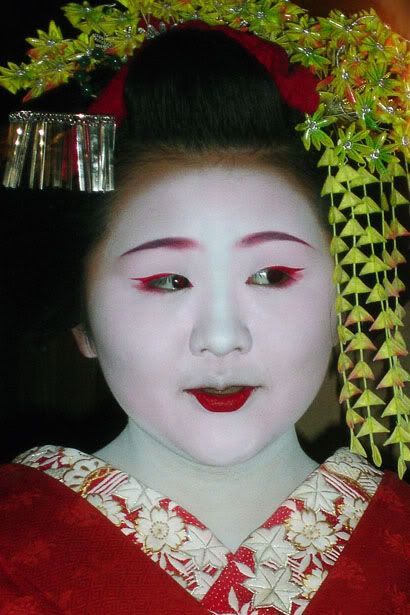 A very young maiko steps out with her 'big sister', one of the 17 maiko and geisha we saw walking the streets of Gion.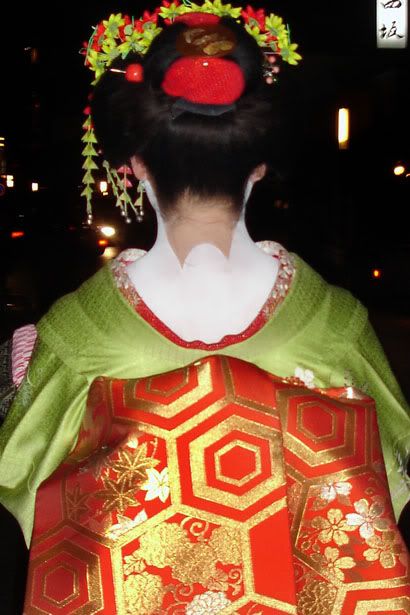 Another maiko hurrying down the Hanamikoji. Red and green are the 'in' colors this season. Seems even maiko are getting into the holiday spirit.
The tangerine tunnel of torii leading through the green trees and autumn leaves of Fushimi Inari.



The changing leaves above Fushimi Inari`s tunnel of torii.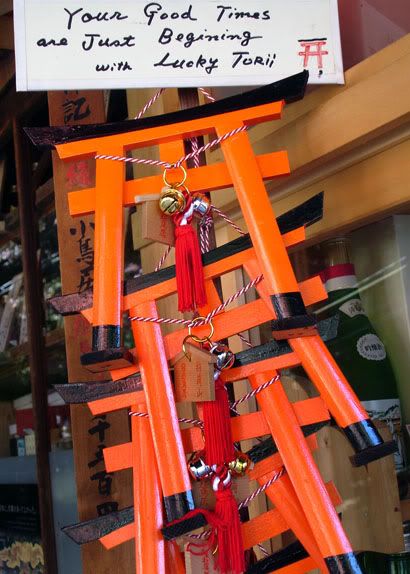 Our trip was coming to an end, but our happy times were just beginning!