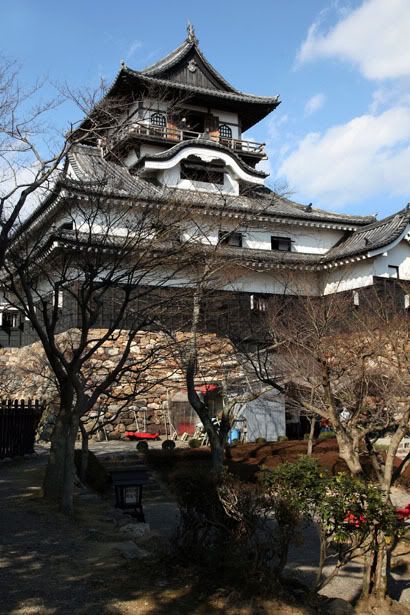 Hakutei-Jo, the White Emperor Castle. With less than six months to go here in Japan, and a rather willing
amiga de viaje
, I've been trying to make the most of my weekends by exploring something other than Kyoto: Gifu, my home for the past three years.
Standing proudly on a small hill 40 meters above the banks of the Kiso River, Japan's oldest original wooden castle keeps watch over the now concrete-covered plains and slowly rising mountains to the north. Below, hidden in the Urakuen te
a garden (so well so that we did not find it), is the Joan tea house, considered one of the finest of its kind (which, for some reason, was brought from Kyoto in the 70's). Bushido, the way of the warrior, and Sado, the way of tea, have always existed side by side. The great warrior Toyotomi Hideoshi, who unified Japan and brought an end to the warring states period, once said that a fine tea cup was worth more than his castle and all its men. Of course, he also forced his loyal retainer tea master to commit suicide. Luckily we don't have to choose the castle over the cup, or commit
seppuku
if we never find the teahouse. With a little planning and a few directibles (also known as directions to those who speak proper English) we can have our matcha and drink it too, with time left over to savor the soba.
I should start by saying that, I have been extremely spoiled. The first Japanese castle I ever laid eyes on was Himeji, the king of Japanese castles. Once you see Himeji, everything else is just kind of, well, maa-maa. What remains of Inuyama castle is small, as are the castle grounds, but a slow and slipperless climb up the steep, unequally spaced steps is well worth it!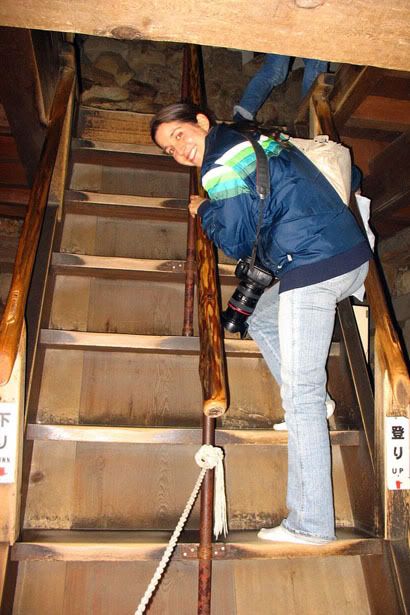 Key word being "slipperless".
Gifu: A River Runs Through It. The Kiso River, that is. From the wrap-around balcony of the main tower, you can see it cut gracefully through the concrete covered plain as it makes its way to Ena (as seen in the picture of my beautiful mountain school: top right, under the page header).
Abbey Sensei braces herself for the brutal winds from atop the tower. Fly away Abbey! Be free!
Brilliant red torii (shinto's spiritual gateways) and crimson banners line the entrance to a small inari shrine at the foot of the castle.
Ema (from e:絵 meaning picture, and uma:馬, meaning horse) are small, colorfully decorated, wooden prayer plaques sold at shinto shrines for about 500 yen. After writing their wishes and prayers on the back, people hang them on racks in hopes that the kami (gods) will read them and grant their blessing. The pictures on the ema also have meaning. These were bought by junior high school students hoping for good scores on their high school entrance exams.
Happy Chinese New Year everyone! Inoshishi: The Wild boar.