Shinahide, a geiko from the Pontocho district of Kyoto, with young Ichitomi in the background.
After hearing that Hisamari, my favorite Pontocho maiko, had decided to end her service, I was rather disappointed. She danced so beautifully last year, I barely remember anything else. This year's Kamogawa Odori, however, was probably one of the best performances I have seen in the past three years! Even Ichimame, the famous blogging maiko of Kamishichiken, was impressed, writing in her blog:
"この間、先斗町さんの鴨川をどりを観に寄せてもらいました。二部の「道中双六」がとても印象的どした。と言うのは、今までにいろんな所のをどりを観に寄せてもうたのどすけど、今までに見たことのない演出でとても面白かったどす。とてもいいお勉強になりました。"

The other day I had was able to see Pontocho's Kamogawa Odori. The second part, "Travel Along the Tokaido", was very impressive. That is to say, until now I have had the chance to see many places' dances, but this one was very interesting and amusing. I learned a lot.


As in Kamishichiken's Kitano Odori, the Kamogawa Odori is presented in two parts. The first half is dedicated to performing a theatrical peice in many scenes, with emphasis on the acting skills of the geiko, while the second half is reserved for showcasing various dances independent of one another. This year, the geiko of Pontocho, inspired by the series of comical books about travel on the Tokaido written in the early 19th century, depicted the journey of two geiko traveling the Tokaido Highway, the road that once connected the then capital of Kyoto to Edo (present day Tokyo).


Seen off by the maiko and geiko of Pontocho, the two geiko started their trip from the Sanjo Bridge, bound for Tokyo.
Shinatomi, ready to go.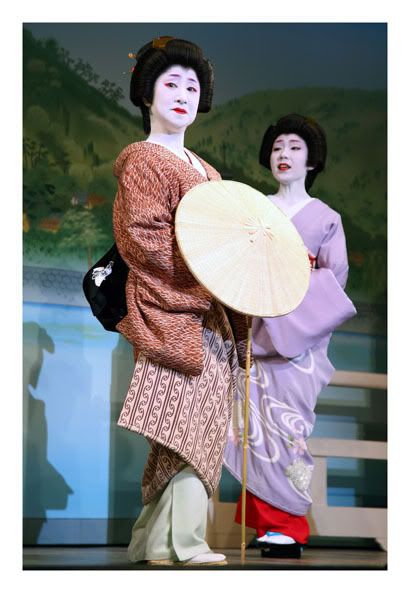 Ichiko is ready to go!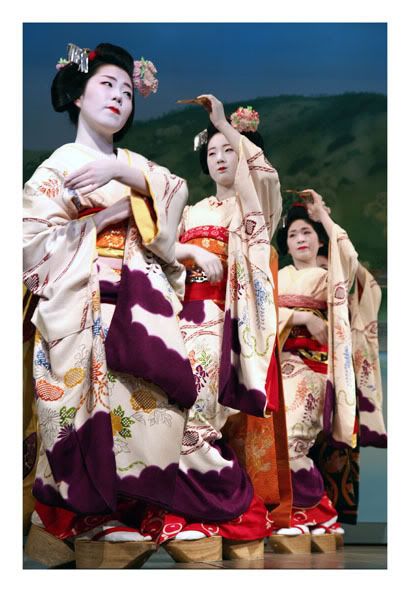 Ichimame leads the maiko of Pontocho in a farewell dance.