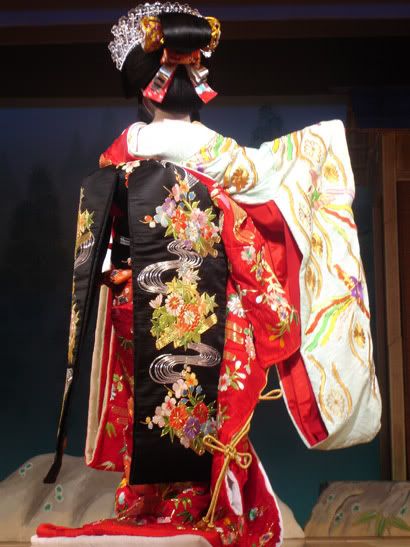 Miyagawa's Kyo Odori also included a scene of a kabuki play performed by the Geisha themselves! Today, Kabuki is performed entirely by men, and the actors that specialize in playing female characters are admired, idolized and considered national living treasures.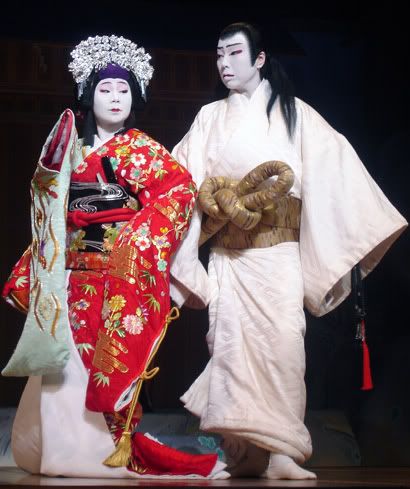 Kabuki has come a long way from its inception in the dry bed of the Kamo River hundereds of years ago. Back then, kabuki was a woman's art, and wih the original kanji used to write it meaning "song, dance, and prostitution", its not hard to see why it became so popular. This began to cause problems, as brawls would break out during performances between the clients of different actresses, vying for their affection. It became so troublesome that the Shogunate, in an attempt to restore order, required all kabuki roles to be performed by men. Instead of calming the riotous behavior that had begun to errupt on the kabuki scene, this decree had the opposite effect! The young men who took over were even more popular than their female counterparts!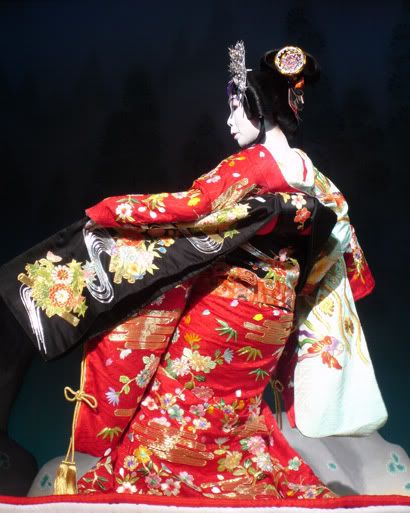 In the intrest of public morals, the shogunate was forced to intervene once again. This time they required all male actors to be of a certain age (I think it was quite old), Which immediately quelled the prostitution aspect of Kabuki. The public no longer flocked to see the beautiful women, young boys or men, so the importance shifted from seductive dancing to skillful acting and story-telling. At some point the kanji for 'skill' replaced ' prostitution', and the rest is history.
Kabuki is one of the oldest forms of theater in the world, famous for its elaborate costumes and set designs.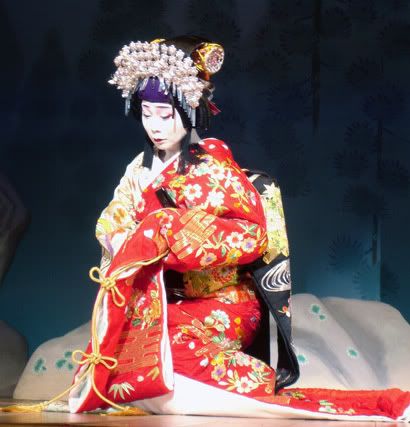 I have no idea what the name of the kabuki selection they performed was, but it was very interesting! It began with a man meditating on the buddah, holding his prayer beads. He seemed to be seeking enlightenment, a refuge from the world, but this woman came to him, destroying his sense of peace.
She seduced him, drawing him away from his prayers and meditations. At first he resisted...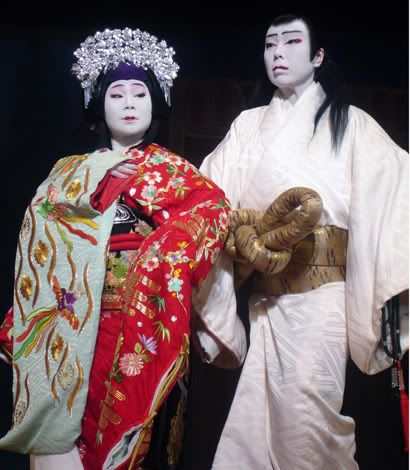 ...but he was no match for her charms...
Before I knew it, they were getting high! In this picture, she poured some mystery substance onto his fan, which he then proceeded to snort like lines of cocaine!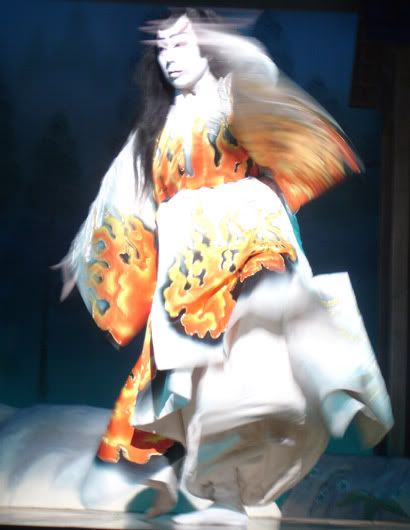 Having defeated his will, she preformed an amazing victory dance and disappeared into a dark and thunderous storm. In the end, the man was transformed into an evil, fearful presence and danced off stage.