Kyoto Rewind: April 1st, 2008
'Uniform' kimono worn by geiko and maiko in the opening
prelude
,
autumn scene
, and
finale
of Gion Kobu's annual spring dance: Miyako Odori.
Before the maiko and geiko of Gion Kobu grace the stage to perform Miyako Odori, the Dance of the Old Capital, overly-anxious guests like me try to curb their enthusiasm by browsing the exhibit of artwork done by the maiko and geiko themselves, including paintings, calligraphy, and flower arrangements. A few of the famous "uniform" kimono the dance is famous for are also on display, highlighting different designs and themes used over the years.
Oil painting of two geiko wearing the Miyako Odori 'uniform' kimono and
hanakanzashi
(flowered hair ornaments) by the geiko
Suzuko
.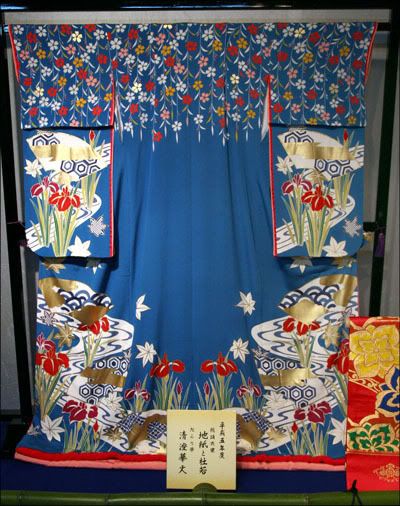 Kimono design used in the fifth year of
Heisei,
1993.
My personal favorite, worn in the fifty-third year of
Showa
, 1978.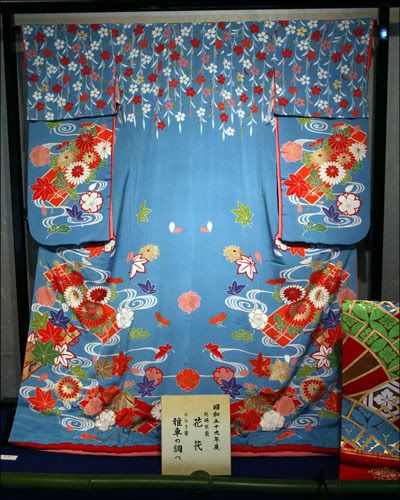 This design must have been the height of kimono chic in
Showa's fifty-nineth
year, 1984.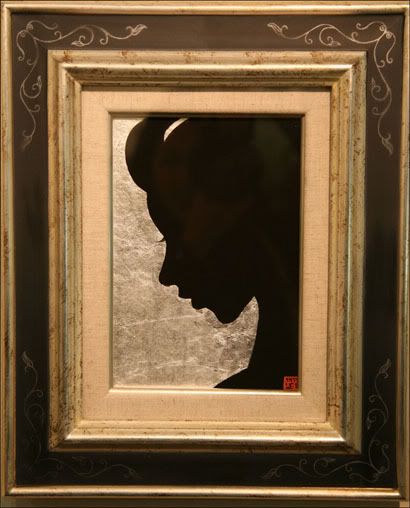 I loved this simple silhouette which captures the mystique, innocent playfulness and youthful beauty of a maiko. I wish I knew who painted it!
Another lovely portrait, artist unknown.