Kyoto Rewind: April 1, 2008
Mamemchika
strolls past the wooden facades of the
machiya
(traditional wooden townhouses) that line Gion's well-preserved lanes. It's always so exciting to see her again! She's become such a beautiful geiko. I know it's silly, but I can't help but feel a sort of affection for the girls I've seen blossom from maiko to geiko over the past four years, especially the ones I've had the pleasure of meeting.
After attending the opening day performance of
Miyako Odori
, we couldn't help but stumble over maiko and geiko on the way to their evening engagements as we strolled through Gion, no doubt en route to Starbucks.
Sasuga Gion
! (Just what you would expect from Gion).
The young maiko Momiju looked pretty in pink as she fluttered through Pontocho.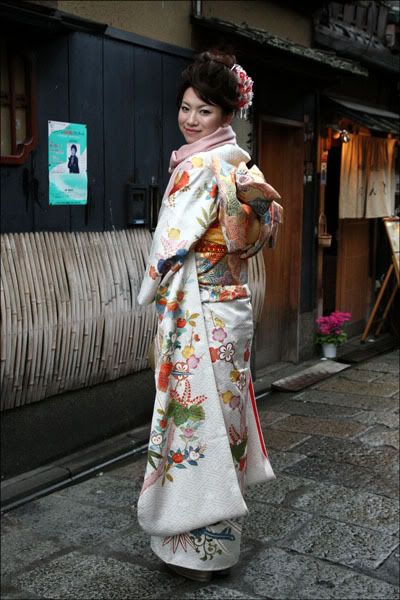 She's no maiko, but she looked beautiful in her long-sleeved
furisode
kimono! Kawaii!
Where there are maiko, their are photographers. (Mameteru)