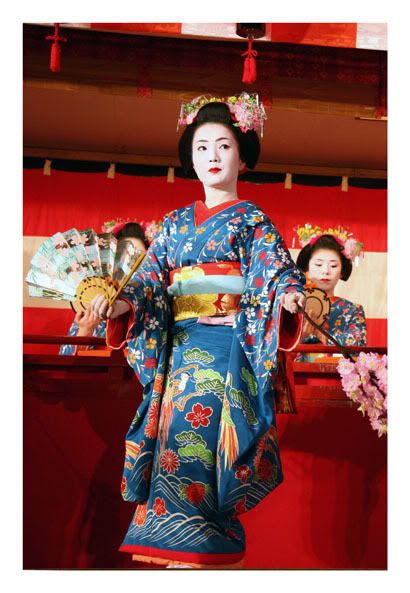 This year's Miyako Odori marked the 135th anniversary of Kyoto's most famous celebration of spring; the colorful spectacle of traditional beauty, draped in silk and framed by scenes of the old capital, painted like elegant hanging scrolls viewed through a delicate vale of pretty pink cherry blossoms. Afraid that the vibrant cultural treasures of the ancient empirial seat would fade and wither when the capital was relocated to Tokyo (during the Meiji Restoration), Kyoto's governors searched for a way to develope and promote the old capital. Inspired by the group performances of Kamenoko Odori in Ise Furuichi, they humbly requested the maiko and geiko of Gion, whose popularity and numbers were at a peak, to present a dance to the public as a side show to a special Expo they would hold at the Imperial Palace. The geiko of Gion had never perofrmed together as a group, but with the help and blessing of the Inoue school of dance, the first Miyako Odori was held in a single room with beautiful sliding doors in a house called Matsunoya (located in Gion Shinbashi). At that time, it was agreed that the dance of Gion Kobu, the most prestigious of Kyoto`s five geisha districts, be the Inoue style of Kyomai (Kyoto's traditional style of dance), and that no other schools of dance be involved.
Beneath the softly veiled light of crimson paper lanters bearing the "tsunagi dango" (linked dumpling) crest of Gion, a curtain rose to reveal a row of maiko and geiko, their faces painted like delicate white clouds in brilliant turqouis blue kimono, raising their hands to hit small drums or gracefully lifting their bamboo flutes to their lips. With a loud call of "Miyako Odori wa Yoiyasa," 20 "Geiko" and "Maiko," traditional Japanese entertainers and their apprentices, appeared one after the other, slowly stepping out onto the hanamichi ("flower paths", runways that line both sides of the theater leading to the stage.) Usually, there are many ways to distinguish a maiko from a geiko: sublte differences in the style of dress, hair, and even make-up, but during certain scenes of Miyako Odori, these distinctions nearly disappear. Regardless of their age or rank, maiko and geiko dance together, all in the extravagant furisode (long sleeved kimono) usually associated with maiko, have their own hair styled (as opposed to geiko wearing wigs) with ornate hair ornaments, and wear their obi tied af half length, a style usually reserved for soon-to-be maiko the month before their debut.

Makiko, a popular young maiko, makes her entrance during the prelude to this year's Miyako Odori, "The Dances of the Old Captial". This year's program was entitled "Miyako Furyu Meisho Emaki," or Picture Scrolls of the Old Capital`s Famous Sights. Each scene of Miyako Odori has an independent story which is newly created every year, including the songs and dances.
The silver sliding doors on the stage represent the room of an ancient court noble's palace where the Inoue style of kyomai, traditional Kyoto dance, was performed during the Edo period. The theater, Gion Kaburenjo, was built especially for Miyako Odori with distinctive architectual features common in Japanese palaces. For this reason it has been designated as a tangible cultural asset of Japan.
Kotoha (left) , one of my favorite dancers. She has such expressive eyes, which is important in the Inoue school of dance. Heavily influenced by Noh theater, the dancers are meant to perform without any expression whatsoever, as if they were wearing a Noh theater mask. In traditional Japanese culture, the outward expression of any emotion was considered inappropriate. Many people confuse this with sadness on the part of the performers, but this is simply a lack of understanding of traditional Japanese culture.