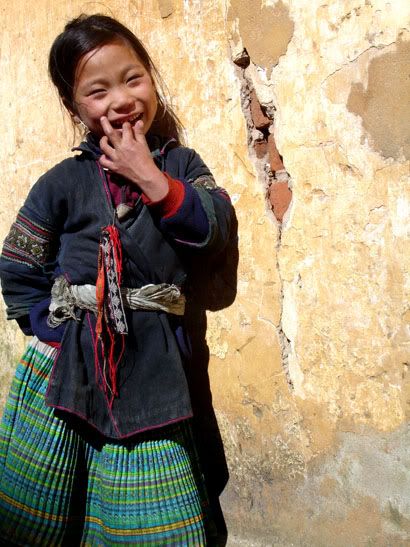 Somehow I've managed to make it back from Vietnam, although now that I have I'm kind of wishing I hadn't! Getting back to Japan was no easy task, and although I seem to have made it, one of my bags has not. Of course the only thing of importance in it was the large collection of photo CDs full of the pictures I took while I was there. Until it finds it's way back to me, here's one of the last images on my camera.
Meet my adopted daughter, Ba, a 5 year old Black H'moung girl living in Lao Chai village, near Sapa, northern Vietnam. Actually, I think she adopted me. Both her parents are addicted to opium, and most of the time she wanders the tourist-flooded streets of Sapa with her baby brother strapped to her back trying to sell whatever she can. Whenever she spotted me in town she would abandon the tourists she was charming at the time, run to me, hug my legs and take my hand, happily following me wherever I went until her mother came to take her away. Then her eyes would fill with tears. The night I left Sapa, she stood outside the van crying uncontrollably, screaming "Goodbye! I love you!"

Maybe she's forgotten me by now, but I'll never forget her.