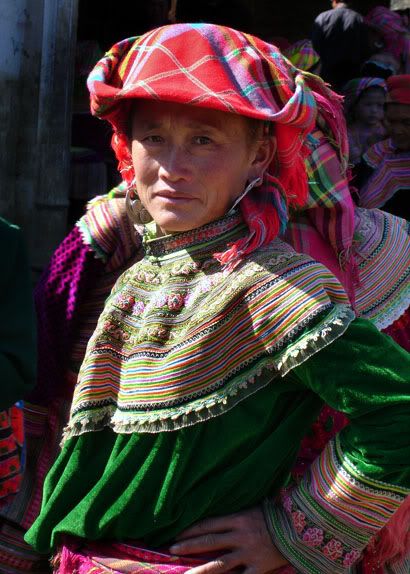 A Flower H'moung woman at the sunday market in Bac Ha.
My bag finally made it to my doorstep last night at 9:37! More pictures coming soon!
Mysteriuos Illness Strikes Beautiful Mountain School
In totally unrelated news, it seems my beautiful mountain school has been hit hard by a mystery illness, causing five of the fifteen employess to call in sick (a very rare occurance, as most teachers feel pressure to report for duty even under the harshest of circumstances). Another 3 teachers unabashedly admit to suffering the same symptoms: vomitting and diarreah. My vice principle used a rather interesting gesture to make sure I understood the Japanese word for diarreah while giving me a short examination upon my entrance to the office.
This slight outbreak has led to a visit from one of the big shots from the Board of Education, as well as an edict by the principle requiring all teachers to wear the infamous surgeon-style face masks in the building. In an attempt to find the source of this illusive illness, the vice principle has created a list of teachers and the break room snacks they`ve indulged in over the past few days . The suspects: Oshiruko (mochi, or chunks of smooth, gooey rice balls in sweet bean sauce, a traditional new year`s food), Soba mochi filled with sweet bean, tsukemono (Japanese pickles), Chilli pepper chocolate (a last minute omiyage, or souvenier, on my way back to Japan via Korea), and coconut candy (another omiyage from Saigon). So far, the sweet bean soba mochi is looking unusually suspect, and despite the risk, I feel an incredible urge to eat the last one left in the tea room...