The maiko Satonami performs in the opening scene with the geiko Chiyoe and Kanachisa.
With the passing of a winter that was more severe than most, the now-greening mountains and perfumed winds seem particularly glorious. In this refreshing season graced by gentle spring sunlight, we are once again proud to present our annual Kyo Odori.

We would like to express our gratitude to all of you who found time in your busy schedules to attend today's performance, which begins with a song-accompanied dance performed by our charming geiko and maiko in a traditional Miyagawa-cho zashiki room. Then performance then goes on to portray in a poetic manner each of the four seasons in Kyoto, with the beauty of the scenes to be found on mountains and in plains depicted through evocative dance.

Much assiduous practice and rehersal has gone into this year's event. After having viewed the fruits of our labor, any comments that you might have on our performance would be greatly appreciated...

I hereby express, on behalf of everyone at the Miyagawa-cho Kabukai, the sincere hope that you enjoy the wonderful spectacle that is the 59th Kyo Odori.

(Excerpt from the Kyo Odori Program)
From left to right, maiko Kimiha, Satonami, and Miyoharu.
The maiko Satonami.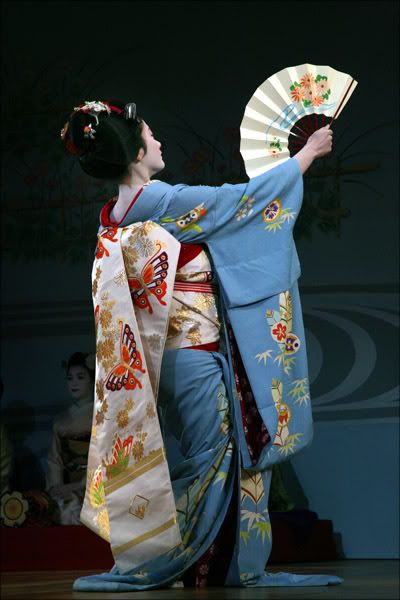 The maiko Tanewaka performs "A Brilliant Brocade of Chrysanthemums".
Kimiharu, little sister to one of Kyoto's most popular and beautiful maiko, Kimika.
Kikutsuru performs in Kyo Odori for the first time as a geiko after turning her collar in June of 2007.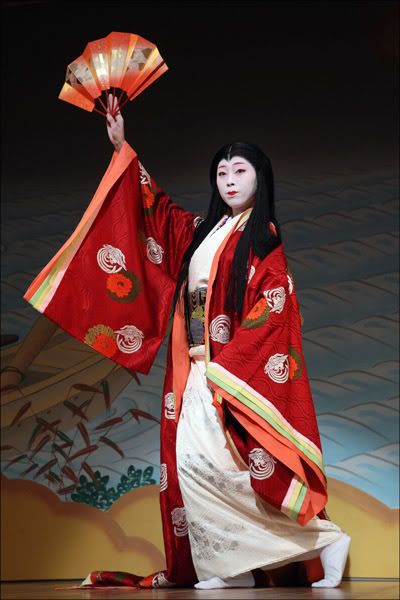 In a scene from the Tale of Genji, the geiko Fumimari dances in Heian period robes as Ukifune.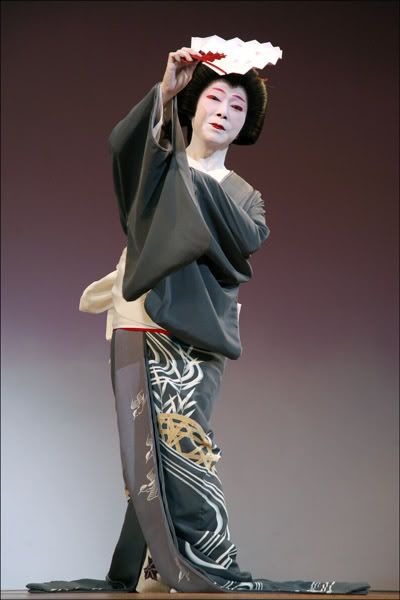 The celebrated dancer Fumicho performs her solo, a constant in the Kyo Odori program.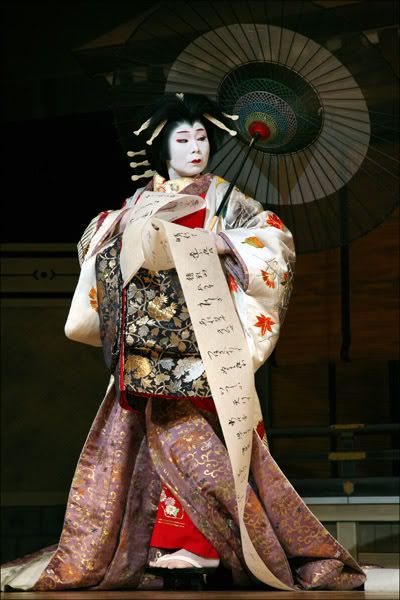 The geiko Chizuru as an Edo period courtesean in "The Tale of Princess Takiyasha".
Maiko take center stage in a brilliant display of color, beauty, and grace during the Miyagawa-cho Ondo Song and Dance.