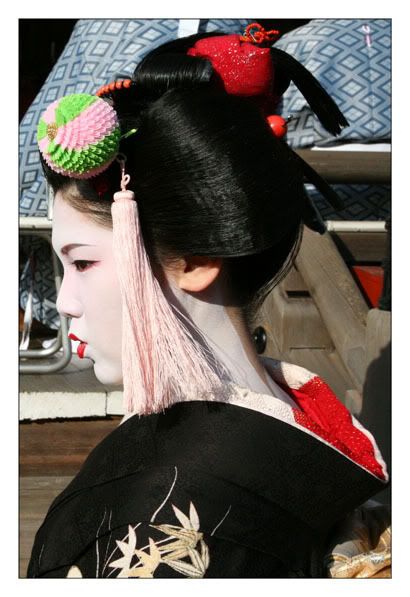 Beautiful and charming Tsunemomo of Gion Higashi sporting a special hairstyle for the Setsubun mamemaki, or bean throwing, ceremony at Yasaka Shrine.
The classic wareshinobu hairstyle of a young maiko on the left is worn during a her first three years of service, until her coming of age ceremony.


Left: Ofuku, worn by maiko from the time of their coming of age ceremony until they are ready to turn their collars and become geiko. Far right: Wareshinobu.
Konomi, close up, is accompanied by Maori, who's wears her own hair styled just as Meiji period schoolgirls once did as part of her Setsubun obake, or costume.
Left: Umemodoki / Osomemage hairstyle. Right: It's a mystery!


Maiko of the Gion Kobu district make their way to the main stage of Yasaka Shrine to participate in the mamemaki, or bean throwing ceremony.


Setsubun festivities at Yasaka Shrine, including dances by Miyagawa-cho, Gion Kobu, and Gion Higashi. Thanks to ericity for uploading it to YouTube!

Unfortunately I was not able to attend the Setsubun festivities this year, but I look forward to shooing away devils and ushering in good fortune next year in Kyoto! Oni wa soto! Fuku ha uchi! If you'd like to Learn more about Setsubun, check out my posts from last year.