Heian Period Women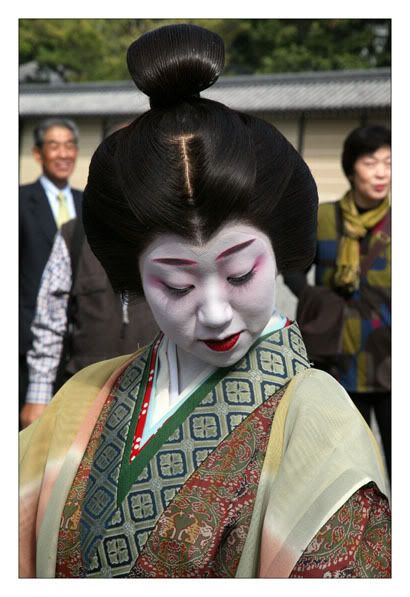 Fukuaya, geiko of Miyagawa-cho, as Ono no Komachi.
Immortalized as one of the best waka poets of her day and a rare beauty, Ono no Komachi is Japan's earliest and best example of a passionate woman poet. Although they were written over a thousand years ago and can be read in a matter of minutes, the handful of her verses that survive today have been celebrated and studied for centuries, transcending time and culture to move and inspire people all around the world.
One of her poems is also included in the
Hyakunin Isshu
, a famous anthology of waka poetry also used in
uta-garuta
.
花の色は
うつりにけりな
わが身世にふる
ながめせしまに

The hue of the cherry blossoms
have faded
Gazing meaninglessly
at the long rain,
I grow old

It may be hard to fully appreciate Japanese poetry without an understanding of the subtle puns and play of words lost in translation. In the poem above, Komachi uses the word furu to connect the idea of growing old to the falling of the rain, and the word nagame to the idea of gazing to the long rains.

Here are a few of my favorite Komachi poems:

Although my feet never cease running to you
On the path of dreams,
The sum of all those meetings
Is less than a single waking glimpse.


******

Did he appear
Because I fell asleep
thinking of him?
If only I'd known I was dreaming
I never would have wakened.
The autumn night
is long only in name
We've done no more
than gaze at each other
and it's already dawn
*****

Yeilding to a love
That knows no limit,
I shall go to him by night--
For the world does not yet censure
Those who tread the paths of dreams

You can read all 22 of her surviving poems here. Which is your favorite?



Fukunami, a young geiko of Miyagawa-cho, dressed as a lady-in-waiting to Ono no Komachi.