With the arrival of another beautiful spring in the ancient capital, we are again staging the brilliant annual Kyo Odori. The 58th event of the traditional spring dance performance presents the seven scenes of Miyako no Shiki no Mai Ogi (expressing the four seasons in Kyoto through dancer's fans). The Miyagawa-cho Geiko crew provides a tour of many Kyoto attractions, depicting the manners and customs of Kyoto people and performing a powerful and majestic dance inspired by an old legend.


By holding the Kyo Odori performance every year, we at the Miyagawa-cho Kabukai aim to help refine our performing skills even further and develop new talents for traditonal Miyagawa-cho entertainment.
We are convinced that our sustained devotion and passion for traditional dance will enable us to meet your expectations. . .


Fukuaya, Kikutsuru, and Komomo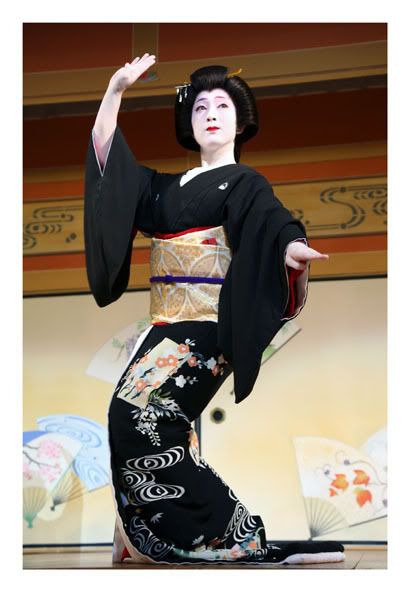 Kimigiku
Well, I certaintly wasn't disappointed (^_<)