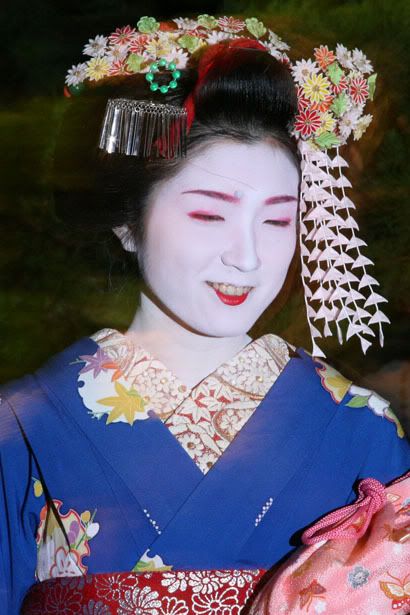 Mamehide rushing through Shirakawa (Gion) on her way to an engagement. Both her Kimono ensemble and her kanzashi, particular to October, celebrate the beauty of fall in Japan. Her kimono and collar are decorated with
momiji
, Japanese maple leaves, and
kiku
, chrysanthemums, the symbol of the Imperial family and a much beloved flower in Japan. The small green ornament is the famous
tsunagi dango,
the linked dumpling crest of Gion, which symbolizes the solidarity between the different geiko districts. Her upper lip is not painted, alluding to her rank as a first year maiko. Her collar is heavily embroidered in red, which also points to her low rank. As maiko advance in the ranks, their collars become predominantly whiter until they are ready to become a full fledged Geiko.
A quite night in Gion. Katsue, a young, high ranking maiko from Kamishichiken, standing near the small shrine enjoying lantern lit Shirakawa.
Katsue greeting a friend with a smile. Note her white collar, crimson lips, and kanzashi (hair ornament). As a higher ranking maiko, she no longer wears the long, dangling bira bira kanzashi that Mameteru is wearing above. Instead she wears a simple chrysanthemum blossom.


Two young maiko laugh with their big sister on the corner of the Hanamikouji and Shijo, Gion.