Arriving in Phnom Phen felt strangely familiar, as if I was coming home. I very casually walked out of the airport and hopped on a moto with very little idea of where I was going to stay, but I knew where I wanted to go: The riverside, Sisowath Quay. I was sure once I got to the riverside everything would work itself out.


Swerving with squinted eyes through the dusty, crowded streets, the muffled melody of moto engines, kept in time with the occasional toot of a horn, seemed almost soothing to me. The sidewalks were swarming with shoeless children and sellers of all kinds of goodness. Women peaked out from behind fluffy, golden piles of freshly baked French baguettes, or walked with perfect posture past sweaty men slurping down breakfast noodles at their favorite sidewalk cafes, balancing colorful combinations of exotic fruits on their heads. The unmistakeable saffron robes of the many monks collecting alms along the street never failed to catch my eye and make me smile. Finally! I was back in Cambodia!
When we arrived on the bustling banks of the Tonle, I thanked my moto dup and hopped off. He seemed a little worried about leaving me on the side of the road, and offered to take me to the backpacker area to find a cheap guesthouse. I`m sure he meant well, but if there was one place I wanted to stay away from, it was the backpacker ghetto! I mean, I did not come to Cambodia to meet other travelers.
Playing with the children of the NCCLA Orphanage in Phnom Pehn during my trip last year.
The riverside hadn't changed at all, and I felt very much at home as I walked towards
Vieyo Tonle
, a non-profit restaurant that uses the proceeds from its buisness to support the
New Cambodian Children's Life Association
, an orphanage providing a clean, safe place to live, food, clothes, medicine, and a proper education to 24 children. During my last trip to Cambodia I ate here quite often, and even had the opportunity to visit the orphanage, teach a bit of English, play with the beautiful children and watch them perform traditional dances. It was one of the best memories of my trip, and I couldn't wait to see all the kids and the kind staff again.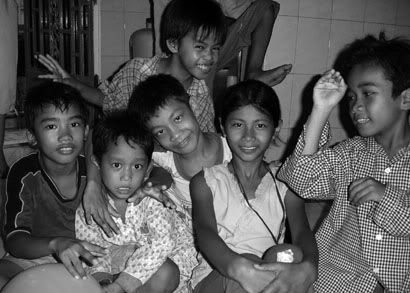 Children of the NCCLA orphanage.
I didn't expect them to remember me quite as clearly as I remembered them, but I was happy and relieved to be greeted by the same smiling faces I came to know last year. As I sat down and searched the menu for Fish Amok, Cambodia's national dish, a tall, slender, 17 year old street kid came to my side with a stack of "Cambodia Daily" and shyly peered at me from beneath his long eyelashes. I apologized and told him I didn't need the paper, but could use some company if he was hungry. He told me he hadn't had a chance to eat yet, so I motioned to the seat across from me and said "Sit down! Let's eat!" He looked around, suprised and maybe a bit scared, but finally sat down. He spoke English suprisingly well, and when I told him to order whatever he wanted, he asked me to order for him. "But I don't know what you like!" I laughed, handing him the menu. He flipped through the pages with a blank stare, and I realized that like almost 60% of all Cambodians, he probably couldn't read. "Ok! I know!" I smiled. " Just tell him what you want," I told him as I called over Ear, one of the staff. "Anything is Ok!"
As he ate a simple dish of fried rice, he slowly began to tell me about his life in Phnom Pehn. He and his older brother had come from the countryside to make money for the family, but since he had gotten older, and taller, it is was getting harder for him to sell to tourists. "They only want to talk to small children," he said shyly. " I'm too old." He was, however, very excited about the chance of becoming a moto driver, an occupation many street kids aspire to for the opportunity to make a bit more money, but getting a bike is difficult and expensive. When he had cleared his plate and waited for me to do the same, he thanked me, and apologized before wishing me good luck, health, and happiness and going back to work, wandering up and down the riverfront, ignored by most of the people he passed.
I sat there for awhile, alone, wishing I could help all the children in Cambodia, and knowing I could not. That's when Ear came back to my table and thanked me for feeding the boy. "I wish I could feed them all!" I said, trying to smile. "So do we!" he siad, "but even we can not help all the children. We can only do a little, but every little bit helps." He looked at me for a few moments, and finally said "You look very familiar... I think I remember you!" Suprisingly enough, he did! He even remembered that I was living in Japan, and was very excited to tell me that the children of the orphanage had been sponsored by a Japanese NGO to travel to Japan and perform their traditional dances in a cultural exchange. They had left only a few days before I arrived, and would return just before I had to. The restaurant was strangely quiet without the kids running around laughing, and being the low season, the tourists were few. Most of the restaurant's buisness is brought in by Intrepid tour groups, who also come to see the children perform, but with the children gone, the seats sat empty. He asked where I was staying, and when I said I still wasn't sure yet, they laughed and offered to help me find something good.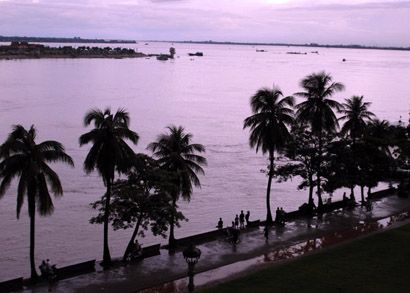 The silhouettes of life on the Riverside. Dusk from my room at the Paragon.
One of the friends of the restaurant owned the Paragon Hotel, way out of my league at a staggering $15 dollars a night (I was looking at something more along the lines of $3) but offered to give me a river view room only a few minutes walk away from the restaurant for 7$ a night. With aircon, hot water, and a view of the river, I couldn`t refuse. I thanked them all, sure that i would see them again soon, before sliging my backpack over my shoulder and heading for the Paragon.
After a quick. warm shower and a change of clothes, I walked across the street to the riverside. I sat down next to a young boy staring out over the water, watching the fishermen bring in their catch. He looked at me and smiled, and we became friends right away. At just 12 years old, after only 2 years of studying English, his fluency was amazing! He understood everything I said, and answered without hesitation. Beside him sat his pink plastic bin, filled with lonely planet guidebooks and stories of Cambodia's tragic history. After school every morning he comes to the riverside , hoping to sell a few books to help support his family and pay for school.
Soon a crew of kids had gathered around, so I spent the rest of the afternoon talking and playing with them. During the entire time, none of them asked me for money, or to buy anything. But eventually they did have to work get back to work. The money they bring to their families is essential for their survival, and any hope for a better life. I looked for them later that night and invited them all to dinner at Vieyo Tonle.
All my new friends enjoying coconut shakes and waiting for their meal.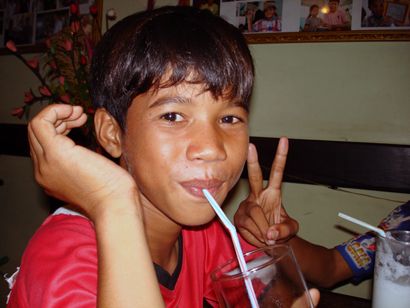 After a hard days work, Sna enjoys his coconut milk shake too. He refused to get any food because he was worried I was spending too much money.
The kids were busy working all day, so we didn't get to dinner until 10:00! I was so sleepy. I can't imagine how these kids feel everyday, up with the sun and out on the streets at all hours of the night...
Hamburgers and french fries transcend all cultural boundries ...
Cambodians have the most beautiful smiles...



Camera-jacked by Lin, a brilliant 12 year old who's father recently died in the countryside, leaving her and her mother alone in Phnom Pehn, where they sleep on the street. Without her father's income, she can no longer go to school.