Right about now Lindz is somewhere over Asia, on her way to the tropical paradise that is Thailand. I should be sitting next to her on the plane, reading a lonely planet guide to my Thai adventure or struggling with Thai expressions like, "Spicy, please!" but thanks to my Board of Evil (aKa Education), I am stuck in Ena, with nothing to do but blog about our fantastic farewell weekend in Osaka
Saturday was Lindz last day at Nova, so while she struggled to get thru it I spent a rough afternoon shopping in Namba! Her farewell party was at Ninikuya (the Garlic Shop), a beautiful resturant with an eclectic menu featuring a delicous array of dishes dashed with garlic. The bathrooms are fully equipped with toothbrushes and toothpaste for all those foul breath faux paus that such a selection is destined to cause, but it was delicous! The best part about it all was that Mitsu was able to come too, and since he's on his way to Tampa Bay, Florida, for the next year, it was the last time we'd all get to party together. Even though he kept stealing my food, it was great to see him again!
After dinner we peer pressured him to join us for Karaoke, a staple of party culture in Japan. Of course he couldn't resist the chance to hear our beautiful voices so he trekked back to Shin-Osaka with us. Highlights of the jam session included his rendition of
Rakuen Baby (listen to it here: track #5)
by
Ripslyme
and Mr.Big's I'm the One Who Wants to be With You, a cross cultural favorite! I got some pretty entertaining video of it all, if I ever figure out how to upload it...
After everyone else went to sleep we decided to watch The Beach, in honor of Lindz encroaching departure. We didnt pass out til after 6 AM! Unfortunately, I had a reservation in kyoto at 3, so we had to be up a ready to go by noon. But that's for another post!




Lindz' friend Yukiyo had invited us to the PL (Perfect Liberty, a new religion in Japan) fireworks display in Tondabayashi, PL`s Holy Land. Its the largest display in the world, with over 120,000 fireworks! We headed to Yukiyo`s, where her mother and 6th grade sister struggled to dress all three of us in Yukata in time to brave the crowded trains and streets early enough to secure a good seat, which we did, 3 hours before the show began. As we walked around the crowded lot admiring yukatas, I found a few admirers myself. A Japanese man yelled out "Kawaii!" a few times before braving a "Hello!" to get my attention. "Mecha Kawaii! (Super cute)," he assured me, smiling. "Niateru! (It suits you!)." As we headed back to our seats (a plastic bag stretched out on the hot concrete of the Holy PL Parking Lot, a Peruvian man walked up to me, looked me up and down and said "Hola guapa!" Hmm...Maybe I should wear yukata more often!




The fireworks were well worth the the wait! Its been a long time since I saw fireworks, but these were amazing. They were sending hundreds up at a time, for over and hour!


PL is the world's largest yearly display of fireworks, with over 120,000 fire flowers blooming in the stars (a typical fireworks festival will launch between 5,000 to 10,000). Highlights include "Niagara Falls", a 50 meter high, one kilometer long river of falling fire (pictured left). The grand finale, a firestorm of more than 7,000 fireworks launched at once, transforms the night sky into a burst of light, if only for a moment.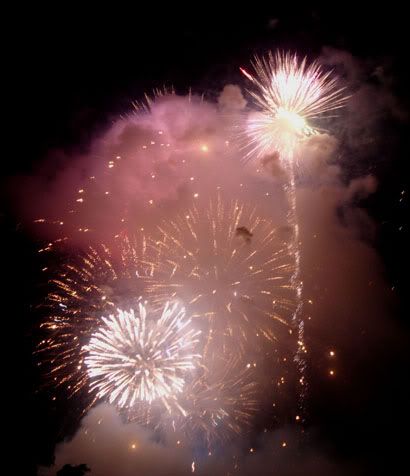 The music was kind of creepy- new age PL style- and probably loaded with subliminal messages to join the dark side, but we survived unconverted.


The finale was incredible. The sky lit up like it was broad daylight, and the sound rattled the ground beneath me and caused my heart to skip a beat. It was terrifying and breath-taking. I got video of that, too!


We ended the night at a sentou, or pubic bath/onsen, where we soaked the marathons of walking we had done over the weekend away.I passed out staring at a huge poster of Johnny Depp playing the piano hanging on Yukiyo's ceiling. It was after 2 AM (I had to be up by 4:30 to begin my trek back to Ena), but it was the perfect end to an amazing weekend!

Sayonara Lindsey-san! I'll miss you!