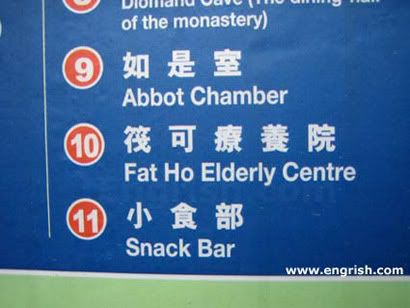 Just what is
Engrish
anyway?
Engrish is JOB SECURITY! Well, it is for me anyway.

Also known as Japlish or Japanglish, Engrish is the Japanification of the English language. Its use in Japanese advertisement and graphic design provide a constant source of comic relief for those of us in Japan that can or care to read it ( let alone try to understand what it's all about) .
In the words of
Matsumo
, Japanese High School English Teacher Extrordinaire,
'the English language is used for fashion, not for communication, here in Japan!'

Why Engrish? Well, phonetically, the Japanese language has no hard 'r' sound. Instead they use a very soft r-l combo, which results in their inability to discern the difference between the two sounds (Unless, of course, they are repeatedly exposed to it, and taught to recognize the difference. That's where I come in!) One famous example of this confusion is rice and lice. The most famous, of course, is Engrish.


Let's Enjoying Engrish!