祇園祭り:よい山の京舞
Mihoko (left), recently graduated from senior ranking maiko to full-fledge Geiko, performs Kyomai for the Yoiyama festivities with the maiko Ichimiyo. Their uchiwa, (Japanese fans) are decorated with their name, and the districts of Gion that they represent. When Geiko or maiko entertain during Gion Matsuri, they give their patrons one of these fans as a keepsake.
Last time I saw Mihoko, she was dancing as an apprentice in the Miyako Odori. She looks so much more refined and elegant as a Geiko!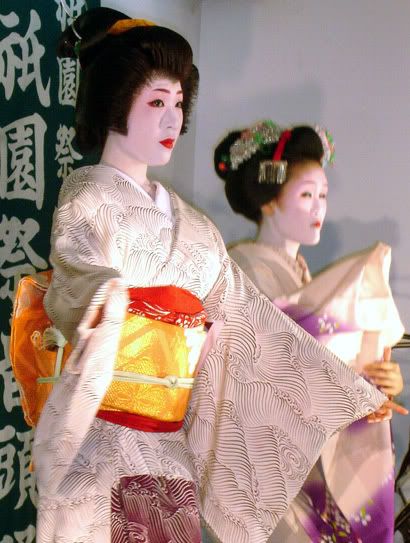 Kyomai, or Kyoto Style Dance, developed in western Japan under the influence of Noh theatre. Unlike other odori, or kabuki styled dances developed in Edo, Kyomai is performed in Washitsu, Japanese style tatami mat rooms, where its subtle movements, the embodiment of the elegance and sophistication of the imperial court, can be viewed at close range .
Kyomai is not meant to be performed on stage, but in the intimacy of Japanese rooms .
Gion's entertainers practice the Inoue school of Kyomai. This style of dance is very different from that performed in Kyoto's other entertainment districts
The Inoue school is characterized by minimal motions based on the masked drama of Noh and the puppetry of Bunraku.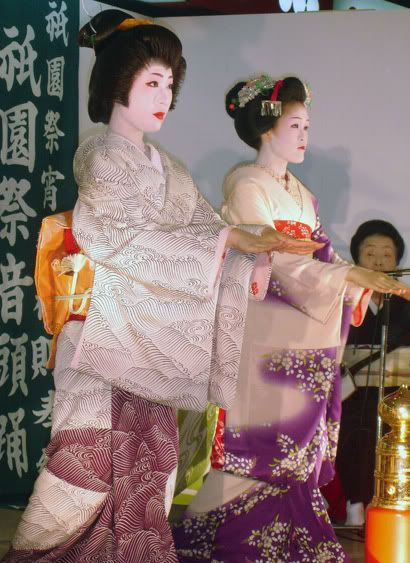 Even in this picture, if you compare the gesture of the hands between the Mihoko (Geisha) and Ichimiyo (maiko), the difference in mastery of these simple movements is clear.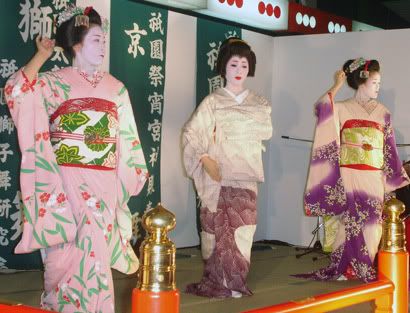 Geiko present themselves in a much more subdued fashion because they do not need the bright colors and flashy ornamentation to compensate for their lack of skill.
Kyomai symbolizes the gracefulness and lifestyle of the imperial family.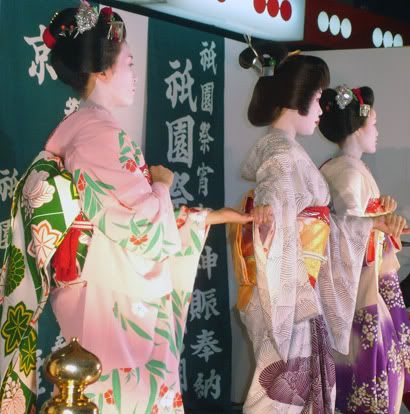 This is the fruit of my Japanese language labour...I was able to read the kanji foretelling the appearance of Geiko and Maiko performing Kyomai, as well as the names written on their uchiwa! Obsessed as I am, this gave me a great sense of accomplishment and furthur motivated me to press on! Who knows what gems of information are hidden in the kanji that clutter this country (besides the people that can read them)?
Let's fighting ganbaro!

Stay tuned...more Matsuri Maiko pix to come...
Check out Justin Klien's
Gion Matsuri Video
to get a better idea of what this festival is all about!