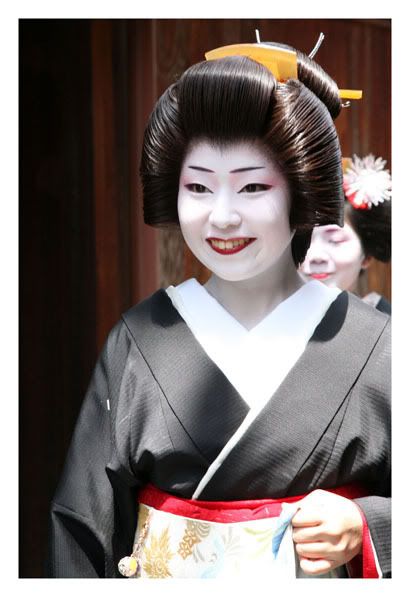 A smiling Suzuha, Gion's most successful geiko. Yes, that's right! More images from Hassaku, my final day in Kyoto, with the promise of still more images to come. What can I say? I am a picture-taking
machine
! (^_<)
What makes Hassaku so special? Most people would say it's the special sort of "uniform" many maiko and geiko wear for the occasion: Formal black, silk gauze kimono adorned with the family crest of their respective okiya. It is possible, however, to see many senior geiko dressed in lovely, subtley colorful kimono looking every bit as beautiful making their Hassaku visits.
Why? It's true that independent geiko own all of their own kimono, but before earning their indepen- dence, they rely on the collection of the okiya. Since these special silk gauze kimono can only be worn once a year, even independent geiko choose to rent them from the okiya.

In some okiya, however, there are many maiko and geiko. When a large family of maiko and geiko must make their Hassaku greetings together, there may not be enough of these special kimono for them all. In these cases, the most senior geiko gives up her claim on the kimono so that one of her juniors may wear it.


A large family of maiko, led by the geiko Takamaru. The senior maiko, Takahiro (left), holds the umbrella for her big sister as the two youngest maiko wait respectfully. A Shikomi, a young girl "in training" to make her debut as a maiko, closes the door behind them.


In order of rank, from geiko (right) to shikomi (left), the family bows to show their respect. The lower the rank, the deeper the bow.


Having paid their respects, Takamaru leads the girls to their next stop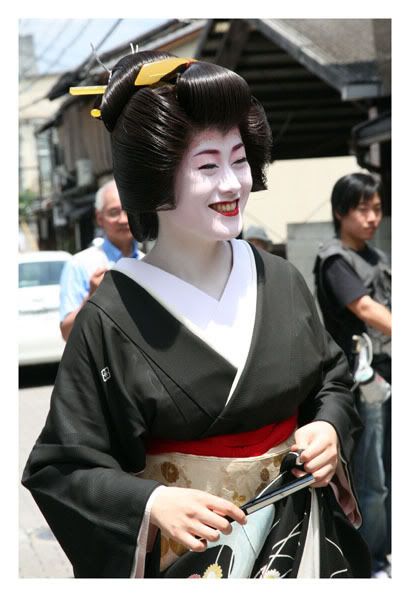 Another lovely smile: Takamaru.