It's not everyday that a gaijin like me gets invited to a Japanese wedding. Excuses, occasions and opportunities to wear kimono are almost as scarce. Thanks to the awesome sensei's at my beautiful mountain school and Colin's conveniently
wafu
(japanese style) wedding, I was able to do both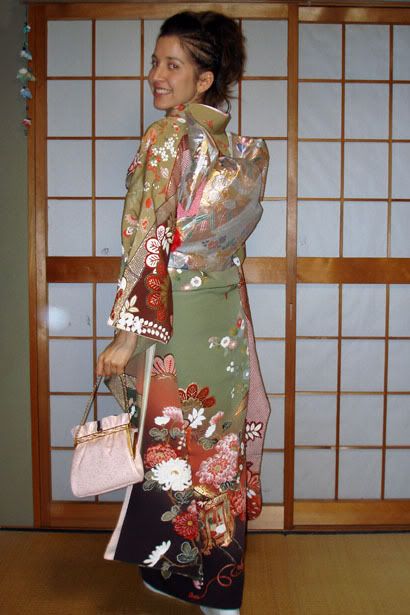 I hadn't honestly considered wearing a kimono because I knew how difficult it would be. Getting your hands on a kimono is no easy task. Buying one is out of the question, as the ensembles can cost tens of thousands of dollars. At $500, renting one, which many young people do for their coming of age ceremonies (seijin shiki) was just as improbable. With just over a week left, I asked my JTE at the beautiful mountain school what I should wear. She acted as if there was no other option. "Kimono! Of course!"
As we sat chatting in the little tea room of the teacher's office, she very casually mentioned Colin's upcoming wedding, and how nice it would be if only I could wear kimono. "That would be good, wouldn't it?" The art teacher smiled, immediately offering to ask his wife, who, as it turnse out, is a master of kisuke, wearing and dressing people in kimono
"And I have many kimonos!" The couselor shot to the edge of her seat, clasping her hands together in excitement. "I can lend you one! I have furisode from seijin shiki, with beautiful, long sleeves It would look so nice on you!"
"Lucky, Melissa!" My JTE smiled at me over our cups of green tea.
Since I needed to be at the wedding hall in Nagoya (a good one hour train raide from Ena) at 10 AM, I decided to get my hair done the night before. Why, you ask? In Japan, only conbinis (conveinience stores) open before 10AM. For a hair stylist to come in early to do my hair, it would cost about 70$. So basically, it wasn't an option. Even if I had the money, I had to be at the art teacher's house at 7AM to get dressed. There was no time. So I got my hair done at 6:30 PM the night before(everything closes rediculously early too- that was their latest appointment) and slept hunched over my computer desk trying not to ruin it.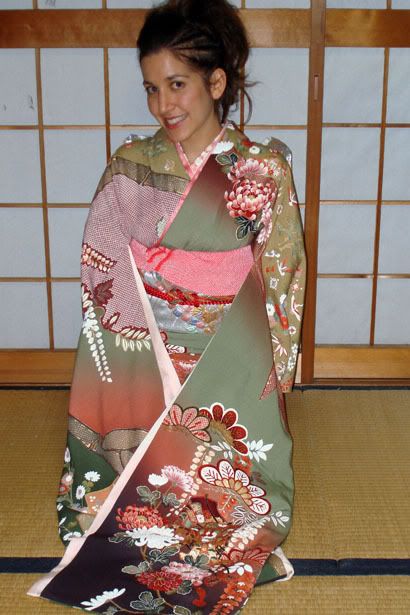 Despite the difficulties involved, wearing such an incredibly beautiful kimono was worth it. I'm so thankful for the never-ending kindness of everyone at the beautiful mountain school, especially the best JTE ever, Kachi Sensei. Arigatou ne!