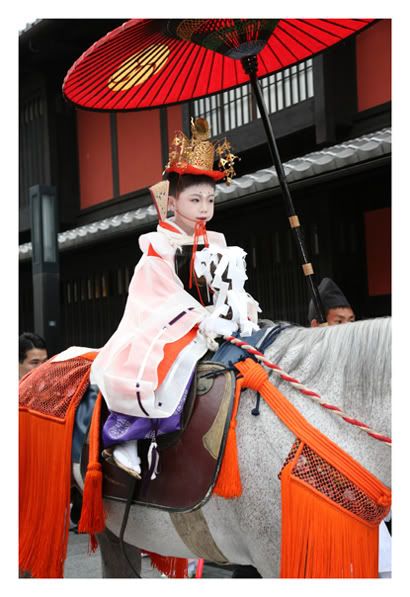 Each year, a young boy is chosen from among Kyoto's wealthiest merchant families to act as a sacred page, an intercessor between the gods and the priests presiding over one of Japan`s most famous festivals:
Kyoto's Gion Matsuri
. At the culmination of the month long event, the Chigo, or "celestial child", rides in the Naginata Hoko, the first float in a long procession of 32, dressed in ceremonial Shinto robes. In order for the procession to begin, the boy must cut through a "
shimenawa"
, or sacred rope, with a single stoke of a sword.
Here he leads a procession of
omikoshi,
or portable shrines, through the streets of Gion on horseback. As a god, he is not permitted to touch the ground. He is carried inside the teahouses to give his blessing.
Behind him, Japan's most famous teahouse, the
Ichiriki
.
Gion Matsuri is a traditional festival which has been held at Yasaka Shrine for over 1,100 years. The festival was first held in 869, when a plague swept the country. People believed it was a curse of the diety
Gozu Tenno
. Sixty-six pikes representing the provinces at that time were erected at Shinsen-en Garden. The gods of Gion were celebrated and portable shrines were paraded through the streets as the people prayed for an abatement of the pestilence. Then known as
Gion Goryo
, the festival actually began as a ceremonial rite for the dead killed by the plagues.